Stays that include the following days require a night minimum: Fri, Sat
Sorry, but the dates you selected require a night minimum stay. Please adjust your search and try again.
Top 5 Brunch Spots in Myrtle Beach
Courtney Martin | 25 Oct 2017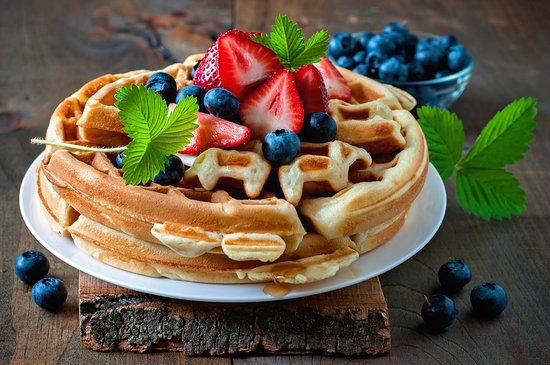 Finding the best places to eat while on vacation may seem like a monumental task. With hundreds of dining establishments scattered throughout the Myrtle Beach area, it's tough to narrow your meal plan down to just one restaurant. During your next beach getaway to the Grand Strand, you may find yourself looking for a brunch spot when you can't decide if it's too late for breakfast or too early for lunch. We've got the Top 5 Brunch Spots in Myrtle Beach below, so try one or all of them out during your next beach vacation!
Blueberry's Grill
Located at the North end of Myrtle Beach off of North Kings Highway, Blueberry's Grill promises classic foods with unique twists, designed to tantalize your taste buds with the finest and freshest ingredients. The restaurant is open 7 days per week from 6am to 3pm and offers both sweet and savory selections. On the sweet side, satisfy your hunger with options like French Beignets or Red Velvet Waffles with cream cheese icing, cinnamon sugar, and butter on top! They also offer a wide variety of Pancakes and French Toast. If you're hungry for something on the savory side, choose from Omelettes, Benedicts, Skillets, and more. House specialties include the Village Burrito, Melted Scrambler, and Blueberry's Monte Cristo Sandwich. The restaurant also has a Healthy Corner section of their menu, with items like oatmeal with fruit, gluten-free pancakes and waffles, and kale omelettes. You can't go wrong with a visit to Blueberry's Grill for your mid-morning meal.
Tupelo Honey Cafe
You can get brunch 7 days a week at Tupelo Honey Cafe, whose menu of delectable Southern selections will leave you asking for second helpings! The restaurant offers a variety of food options, from snacks and shares to sandwiches to mains and a la carte sides. Snacks include Chef's Mason Jar Dips, which include roasted apple tahini & hominy, bacon & blue cheese, creole roasted eggplant, pimento cheese, served with tri-color carrots and hand-cut potato chips, as well as other favorites like Blue Ridge Flatbreads and Fried Green Tomatoes. Main entrees vary from sweet Banana Pudding Layered Pancakes to savory Tupelo Shrimp and Grits. Other mains include Appalachian Breakfast, featuring Sausage, sorghum pork black-eyed peas, roasted onion, potato cracklins, two fried sunny-side up eggs, and much more! For those 21+, be sure to try out Tupelo's Mega Mimosa, 10 ounces of Sparkling Bruut Prosecco and fresh orange juice. For Southern brunch with a dignified twist, visit Tupelo Honey Cafe at the Market Common in Myrtle Beach!
Famous Toastery
Famous Toastery continues to impress patrons with its impeccable service and and fresh ingredients. This brunch spot is open from 7am to 3pm each day and offers up both a breakfast and a lunch menu. If you're in the mood for breakfast, try Toastery's range of omelets, including the Build Your Own, where you can choose three ingredients from a lengthy list of vegetables, meats, and cheeses. Choose something hot off the griddle like Classic Flapjacks, Cinnamon Raisin French Toast, or a combination of the two! Traditional brunch side items include breakfast potatoes, grits, biscuits and gravy, and more. On the lunch side, the restaurant offers a myriad of sandwich options, like classic BLT, Meatloaf sandwich, Tuna Salad and more. Famous Toastery also serves up delectable chicken wraps, salads, burgers, and sides like mashed potatoes, potato salad, and macaroni and cheese. Have breakfast and lunch at the same time when you dine at Famous Toastery Myrtle Beach.
Lulu's Cafe
Lulu's swears by its all-day breakfast menu, as it serves all of your favorites from 7am to 2pm, seven days a week. This local favorite offers up an atmosphere of old-school vintage charm, as well as the good eats to go along with it. The menu includes a variety of Egg selections like Steak and Eggs, or the Rise and Shine combo, which comes with 2 eggs, choice of meat, stack of pancakes, grits, and toast. Lulu's also serves up fancy Benedicts like the Charleston, featuring pan sauteed crab cake, poached eggs, and hollandaise on an English Muffin. The cafe also offers up a range of Scrambles, Pancakes and Waffles, Biscuits and Bagels, and French Toast to satisfy your breakfast cravings. On the savory side, Lulu's offers up salads, burgers and sandwiches, including the Avocado Burger, Crab Cake Sandwich, and Fish Tacos, as well as seafood and chicken tender baskets. No matter what mood you're in, the brunch offerings at Lulu's are sure to satisfy!
Croissants Bistro and Bakery
Now with two Grand Strand locations, Croissants Bistro and Bakery offers visitors the best in quality comfort food at an affordable price. With two menus available from 7am to 4pm, you're sure to find the brunch items you've been craving. On the breakfast side, Croissants serves up delicious crepes, like Banana Nutella or Ham and Cheese, as well as Egg Benedicts with signature cheesy hash browns, and a la carte items like house granola, fresh fruit, slice avocado, and more. Sample one of the House Favorites, which include Bananas Foster French Toast, Steel Cut Oats, Acai Berry Bowl, and other scrumptious items. Signature breakfast dishes include Shrimp and Grits, Pennsylvania Dutch Style Pancakes, Huevos Rancheros, and Croque Madame. On the lunch menu, Croissants serves five different kinds of salads, including Seasonal Fruit and Spinach, Chopped Cobb, Southwestern, and Caesar. Visitors can also indulge in sandwiches and classic entrees like Pimento and Fried Green Tomato Melt, Tri-Color Quinoa and Red Rice Burger, Monte Cristo, and Quiche du Jour. This bistro will take you all around the world with its international flair and distinction.
Why decide between breakfast and lunch, when you can have the best of both worlds with a big Myrtle Beach brunch? Try out one or all of these Grand Strand restaurants during your next beach vacation, and tell us which ones you liked the best! Perfect for your Fall or Winter getaway, Myrtle Beach offers visitors a seemingly endless supply of restaurants!
Best Available Rate